Looking for an Ambilobe Panther Chameleon? My name is Chris and I would love to help you!
I have been breeding and raising pure-blooded Ambilobe Panther Chameleons since 2017. These gorgeous chameleons thrive on care and attention. They are exceptionally friendly, healthy, and receptive.
---
My Experience & Focus
Passion for reptiles
In 2013 I started to breed veiled and Jackson Chameleons and Crested Geckos. I enjoyed the process and decided to expand my operations to include my favorite chameleon, the Ambilobe Panther Chameleon.
Panther Chameleons
The Ambilobe Panther Chameleon is a sub species of Panther Chameleon found in the tropical forests of Madagascar. Ambilobe Panther Chameleons have the most stunningly beautiful colors and are the most easily handled.
Care and Attention
The care and attention I give my Chameleons make them exceptionally friendly, healthy, and receptive.
Testimonials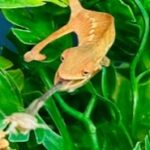 I bought a Panther chameleon from Chris couple months ago. She is a beauty, healthy and friendly. My son loves to watch her catch crickets. It's been great family entertainment, we're thinking about getting another one and we will definitely get it from Chris!
– Todd and family